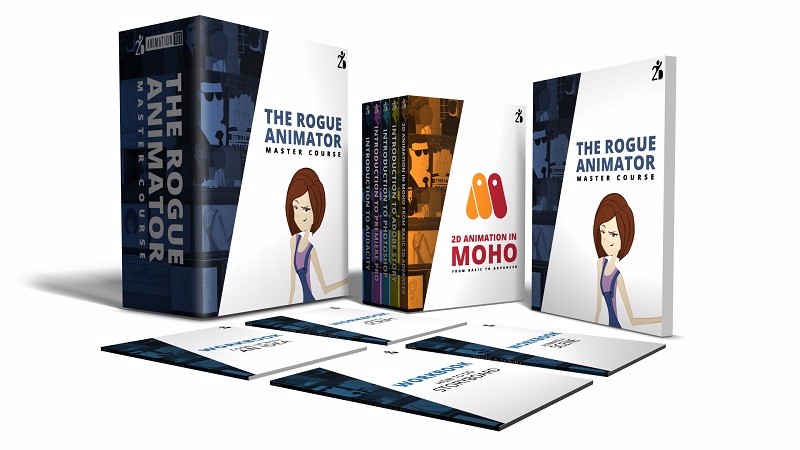 Create your First Animated Short in 10 Days
---
THE COURSE IS DIVIDED IN 2 PARTS:
STAGE 1
You follow Mark Diaz and learn how to create the animation:
"Justice Has Been Served"
STAGE 2
We help you create your own Animation
---
OUR STUDENTS ARE
GETTING RESULTS
"The classes are very easy to understand, entertaining to follow, and they cover every step of the animation process."
Chuck Downs, Professional Cartoonist, creator of Fitzpatrick the Rat, Pocket Lint and DeadChuck.
CHECK HIS ANIMATION
"I picked up a few tricks on character rigging and replacement animation from their course. Excellent stuff." -Chuck Downs

---
10 DAYS? HOW?
PRODUCTION PLAN
(THE COMPLETE PROCESS)
DAY 1
Coming up with ideas and
Writing a Script
DAY 2
The Director's Storyboard
(the ugly version)
DAY 3
Production: Drawing
Backgrounds and Props
DAY 4
Character Design and the
Improved Storyboard
DAY 5
Sound Post Production and
The Animatic
DAY 6
Tracing Nancy in
Moho Debut 12
DAY 7
Tracing The Agent in
Moho Debut 12
DAY 8
Preparing for Animation: Set
up a Bones Rigging System
DAY 9
Animation Part 1:
From Scene 1 to Scene 7
DAY 10
Animation Part 2:
From Scene 8 to the End
---
SOFTWARE USED IN THIS COURSE
Adobe Story (FREE): To write the Script.
Audacity (FREE): For Audio Mixing and Post Production.
Adobe Photoshop CC: To Draw and Paint the Backgrounds (you can follow along with your preferred drawing software).
Smith Micro Moho Debut 12: For Character Animation and setting up each scene.
Adobe Premiere Pro CC: To edit the animatic and put together each animated scene (you can follow along with any editing software).

OTHER SOFTWARE SUPPORTED
WHAT ABOUT BEGINNERS WHO DON'T KNOW
HOW TO USE THE SOFTWARE?
THOUGHT YOU'D NEVER ASK!

THIS CLASS IS BUNDLED WITH INTRODUCTORY COURSES
In the Introductory Courses you will learn the basics of each software so you can follow along with the course. Intermediate users can skip these classes and move on to the core of each day's work.